Pastor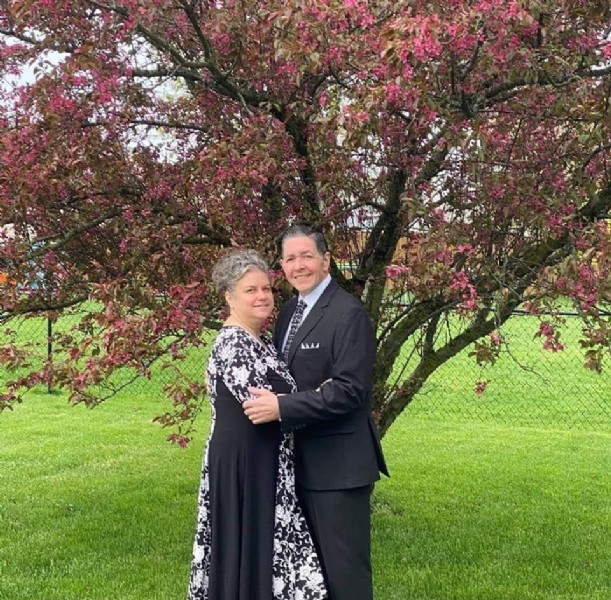 Pastor Joseph R. Riggs grew up in Indianapolis, IN.  He attended Calvary Christian School from first to eighth grade.  In fourth grade during a prayer meeting, he was filled with the Holy Ghost.  He was then baptized in Jesus name at his then home church, Drexel Gardens Apostolic Tabernacle.
In January of 1986, Bro. Riggs came to the Apostolic Pentecostal Church of Greenfield, IN to make it his church home.  On July 18, 1987, he and Kim Brown became husband and wife.  That union has been blessed with three wonderful daughters, who are all saved and serving the Lord.  Their oldest daughter, Brittany Devalal, and her husband Ian are currently stationed  in San Antonio, Texas and are expecting twins in August of 2022. Ian  is serving our nation in the United States Air Force. Brittany leads the  UAC of JC Camp Ensamble. They are both a great help in thier church in San Antonio. Their middle daughter Kayla and her husband Nathan Turner are the Teenage Sunday School teachers as well as the Youth leaders of that age group.  The Turners also welcomed a new additon to their family, Lorelai Lynn, the Riggs' first grandchild.   Their youngest daughter Marissa, a school teacher at Calvary Christain School is an active member of APCGI and works in the church. 
In January of 1990, Bro. & Sis. Riggs became the youth leaders of our church working hand in hand with Pastor Kenneth Brown.  Over the years, Bro. Riggs became the youth pastor at APCGI and worked with Pastor Brown for almost twenty years in that capacity.  On September 27, 2009, Pastor Brown went home to be with the Lord.  After prayer and seeking God's will, Bro. Riggs officially became pastor on December 1, 2009.  
Bro. and Sis. Riggs taught children's church together for thirteen years. Upon Pastor Riggs appointment as Pastor, Sis. Riggs continued teaching children's church for several more years. She also taught Sunday School for over 25 years. Sis. Riggs continues to lead APCGI as President of the Ladies Auxiliary.
"Sis. Riggs is a wonderful First Lady of the church and a great helpmate. We love working with God's people, pulling together for the Kingdom of God. We are trying our best to make sure His truth is marching on.  We are blessed to be with and work with like minded people." Pastor Riggs
A man's heart deviseth his way:  but the Lord directeth his steps.
Proverbs 16:9